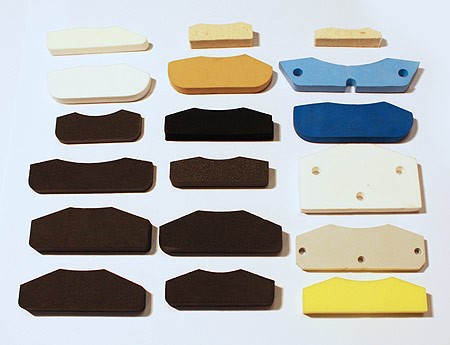 Our End Seals deliver a long-lasting solution to a problem flexo printers deal with every day: reducing ink leaks that cause downtime and extra cleanup time. The overwhelming market feedback is that this seal works perfectly and lasts a long time. These 2- or 3-piece seals features high-quality, rigid material to prevent distortion and maintain shape. The 3-piece seals feature a Teflon strip for better sealing and longer life. The hard contact material on top is extremely durable. With proper lubrication, its resistance to friction and wear allows for longer runs at higher speeds.
The Right Solutions to Your End Seal Related Problems
A number of problems and associated costs can occur from end seal leaking on flexo presses or coaters. These can include waste, downtime for changeovers, reduced doctor blade life, scored anilox rolls, and high flexo end seal replacement costs. Whether you have an older flexo press or a brand new one, chamber leaks cause frustration and reduce press efficiency. The right end seal material, the right fit, the right best practices, and the right housekeeping can greatly minimize press downtime and lower total costs.
The Right Seal Designs
We have found that end seal failures often are caused by inaccurate designs. Corrections can be achieved by slightly modifying the size of the end seal, the radius and/or changing the end seal bevels so that the doctor blades change their level of contact to the anilox rolls. Our principal has developed a unique methodology to make sure that end seals we produce are the right fit for their specific application.